ABOUT US FETHİYE
RE-DISCOVER THE LIGHTS OF NATURE, HISTORY AND CULTURE
AT FETHIYE OLUDENIZ


HOTEL STAR!

You can reach anywhere easy and fast from the location of OUR HOTEL.
A worldly heaven with its natural beauties, rich history and cultural heritage Fethiye-Ölüdeniz; is an internationally famous world heaven.
Named as "the heaven which God endowed to the world" Ölüdeniz is a tourism center that belongs to the world by its international fame which go beyond our country's borders. Ölüdeniz has a striking beauty and as its name is calm and motionless. Our hotel is 10 minutes by car to Fethiye and 5 minutes to Ölüdeniz; after a road between pine trees, it strikes you with its blue suddenly. When you walk through Belcekız cove and the beach that lay within this cove you see the unique Ölüdeniz. Ölüdeniz is motionless as if it is magical. No single seaweed under the water. Covered by white sands. The light that is broken by the water and the sand below it; gives the famous turqouise color to Ölüdeniz. With its green pine forests that reach till the shores; the warm sea that every tone of green, blue and purple can be seen, and the long beach Ölüdeniz is a world wonder. In recent years, paragliding people who jump off the 1975 meters high Babadag peaks encounter the most breath taking vistas of the world. We present the opportunity to swim in this cove in 10 months of a year. The free transportation facility of our hotel, that works morning, afternoon, and evening in specific hours within the day; can take you to this heaven just between 5-10 minutes.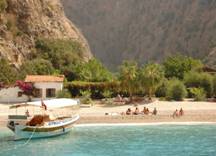 In February 8, 1995 the area was declared first degree natural environment thus is under governmental protection and is closed to any construction. This rocky and pinery valley got its name from the billion of butterflies that found on rocks, trees and leaves wrapping around the place. Valley is reached by the boat that departure from Ölüdeniz. Kelebekler vadisi beach has no lodging amenity. It is possible to lodge in a tent, an arbor which is covered by bushes or tree leaves, or terraces established on the branches of the trees.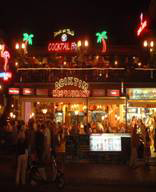 Hisarönü is one of the most livable and the most beautiful places of Fethiye. It is found at the center of the night life as well as the most places you can visit in Fethiye. It is warmer than Fethiye and it is one of places where the night life is the most vivid and colorful. You can visit night clubs, Chinese restaurants, suvenier butiques, professional tattooists, silversmiths and you can as well attend Karaoke parties, foam parties and turkish nights in Hisarönü. Hisarönü bars street is just at 10 minutes walking distance to our hotel. You can reach anywhere easy and fast from the location of OUR HOTEL.

You will swim in the most beautiful place on earth and watch paragliders.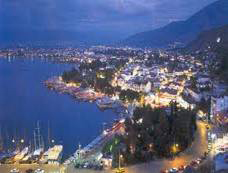 Words are not enough to tell the beauty of Fethiye; an Anatolian district. If you are passionate about nature and impatient to explore new horizons, you have a wonderful opportunity for your vacation. You can find the cutest coves both large and small, beaches, islands, hot climate and abundant earth in this natural heaven of Fethiye. The vista of the green pinery of the Toros will be waiting for you aswell. In the city of lights, you will feel your joy of vacation will turn into an enthusiasm and witness how the history and culture fuzes into the natural beauties and enlivens more. You can reach Fethiye by minibuses that pass every 5 minutes in front of our hotel and sip your drink in Kordon Boyu, Paspatur, Barlar caddesi or in one of the cafes that lay throughout the beach. You can also find natural products as well as suveniers in street bazaar which is opened every Tuesday. King graves, Lovers' hill, museums and mosques must be among your stops..

You will be speechless the moment you arrive at Kayaköyü. Hundreds of deserted houses at the both ends of the mountain. An extraordinary view. You will forget everything while sipping your coffee in one of the village's cafes and chatting with locals. From the very first moment you will say to yourself "Thank God I came here". The establishment of Kayaköy is unknown however traces of settlement can date back to 14th century. The old name of the city which was established upon the ancient city of Karmilassos is Levissi. The read sources claim that the mojority of the population was Greeks and these people used to be in a very good relationship with the Muslim villages around them. After the known exchange of populations in 1923, local people were exchanged with West Thracian Turks. Some left just with their slippers; while some left their houses to a friend. They all left with the hope of coming back. Kayaköy is a deserted Greek village between Fethiye and Oludeniz; and has a fascinating atmosphere with its architecture, narrow streets, churchs and nature. The pinery forests surround the village and by a 20-25 minutes walking one can reach lace-like coves of Mediterrenean. The important remains and ruins of the ancient world is found near Kayaköy.

You can reach Kayaköy in 10 minutes by minibuses that pass every 5 minutes in front of our hotel..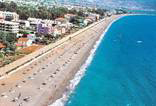 An important entertainment center located 4 km north of Fethiye.

Kilometers long beach, stainless sea and poetic sunset of Çalış beach will add another dimension of beauty to your memories.

Located on a bit inner side of Fethiye-Antalya highway, found at the skirts of Akdag mountain between rocks; Saklikent is one of the wonders of nature that you should see.
When you enter to the Canyon which is created by the snow-waters that flow for hundreds of years; you will encounter the squirting water that fastly turns itself into a river and besides all these, you will not be able to forget the taste of salmon you ate here for a long time.

Saklikent is near the Kayadibi village that is 50km away from Fethiye, which you can visit by your own car or by daily tours. The Canyon of Saklikent is formed by an earthquake almost 1.8 million years before and it has such a beauty that it is simply a gift from God to Anatolia. The ones who join the 1 hour safari will enjoy the beauty of seeing the sight of 18 meter long and 600 meter high canyon as well as a chance to witness how little are humans in this world.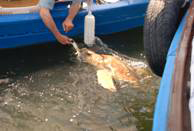 Patara has the longest beach of Turkey by its 18 km long shore (the most narrow area is 280 m. and the most wide area reaches 1500 m.). Declared as a protected site; Palata beach is the reproduction area of Caretta-Caretta turtles. The protection cautions are neatly applied on the reproduction periods of Caretta-Carettas in order to sustain turtles ecological environments. Sands that remind a desert, spotlessly clean sea and pinery forests of Patara are very famous, hiding many surprizes within its being.
However Patara ancient city is under the sands that winds bring from one place to another. In a project that is designed in order to prevent sand movement, the acacias, and other plants were planted on the site beautifying the area even more. In addition, dark pink rosebays complete pine trees. So very wide and wild, long beach never lacks wind while the sea never lacks the waves. Palata has one of the few clean seas of Mediterrenean, its waves which hit your body create a jacuzzi effect and when you try to swim among these waves you will be exausted. Palata has a very interesting sand structure. The sands, a kind of micro-organism which indicate the clean seas of thousands of years before, help people get rid of their aches and pains by applying a sand cure on the sand.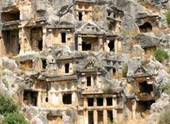 Among one of the unique beauties of Fethiye; Tlos Nature Park is 2 km away from Tlos ancient city and 42 km to Fethiye. You will feel yourself in a different world in Tlos Nature Park, where natural water sources form an inseperable whole with the lanscape.
Found on the main channel uniting Köyceğiz Lake and Mediterrenian sea; Dalyan is an absolute wonder of nature. Despite its 5 thousand years of history, its unspoilt beauty is waiting for you. You can wonder how Dalyan achieved to reach this day without being disturbed although it is located near many famous tourism centers. The reason is that is is 12 km within the main highway. Therefore "Hidden Heaven" managed to reach our day with its most natural state. Dalyan is a town, connected to the Ortaca district of Mugla. Its population is around 5 thousand. Many foreigners also choose to live here.